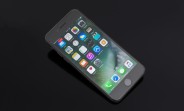 Apple stock closed at an all-time-high on Monday morning with a closing price of $133.29 per share. This happened after Goldman Sachs said that Apple was slightly undervalued based on hearing speculation about the device possibly having AR features, signaling it may be a significant update to the iPhone.

The price of the stock had been steadily rising after Apple's 2016 Q4 earnings call. The highest price of Apple's stock during a business day was $134.54 per share, which the closing date has not yet reached.

Many investors Apple usually buy stock during the building up of rumors and...