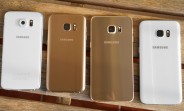 Samsung is expecting a strong demand for its Galaxy S8 and S8+ so it has boosted its initial production by nearly 40% compared to the Galaxy S7.

The former flagship's initial batch was 12M units, but this time around Samsung is increasing that number by 40%. The total shipments are expected to reach 60 million units.

That number is noticeably higher than the 48 million sales that the Galaxy S7 achieved and the 45 million of the Galaxy S6 before that.



Now the sweet 60 million number hasn't been officially confirmed and comes from Korean local publication The Bell, but it's clear...