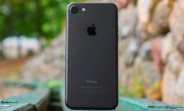 Apple is definitely not one to blindly follow along with market trends. However, the US giant also knows when its time to cave into user desires and according to IHS Technology analyst Vicky Yussuff, an overwhelming number of iPhone users want to see wireless charging in their next handset.

The success of wireless charging adoption from Apple's competitors is something that Apple can no longer ignore. IHS Technology consumer survey data shows over 90% of consumers want wireless charging on their next device.

We've been hearing about this for a while now and it almost seems like a sure...