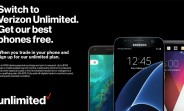 If you bet on hell freezing over before Verizon once again offered a plan with unlimited data, well, you lost that bet. Amazingly, the carrier that just last year told its customers that they don't need unlimited data has now decided that maybe they do after all.

Let's get one thing clear first. The data traffic is technically unlimited, but after the first 22GB used each month per line you could be subjected to throttling. Then again, it's unlimited data. At Verizon. Oh, how things change in the mobile space.

Anyway, the plan is intuitively called Verizon Unlimited and it costs $80...