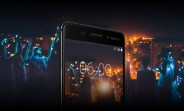 Get ready for Nokia smartphones to once again be sold in Europe. According to a new leak from Evan Blass (a.k.a. @evleaks), the brand will introduce three new devices at MWC on February 26, one of which is pretty surprising, to say the least.

The Nokia 6 was launched in China last month, and this will be showcased at the MWC event too - where it will be announced for the European market. The Nokia 6 will be sold in Europe for €249.



Joining it will be the new Nokia 5, with a 5.2-inch 720p touchscreen, 2GB of RAM, and a 12 MP main camera. It will be powered by the same Qualcomm...