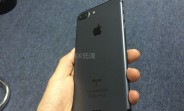 Another day, another iPhone 7 rumor and also another twist to the never-ending mystery that is Apple's upcoming smartphone lineup. It seems like the closer we get to September and the alleged September 7 release date, the further we end up digging ourselves in an overwhelming mess of rumors.





Alleged iPhone 7 Plus


Today brings yet another confusing piece of the puzzle - a few shots of what appears to be a 5.5-inch iPhone 7 with a dual-camera setup, POGO pins on the back an to add a finishing touch to the mix - colored in black. Naturally, this leaves us a little perplexed. If...