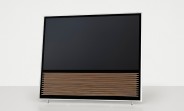 B&O has launched a new television - the BeoVision 14 - the company's second 4K model since the Avant.

The BeoVision 14 builds on the square design of the BeoVision 11. The space below the screen is used for the speaker system, covered by a variety of color options for the fabric speaker grille. One unique to the BeoVision 14 is oak wood, that uses multiple strips of wood to cover the speaker grille. Surrounding the television is an aluminum frame.



The television has three mounting positions. You can either keep it on the motorized stand, or on the floor with the easel stand, or...