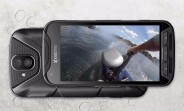 The Kyocera DuraForce Pro on Verizon has started receiving a new update that bumps the software version to 3.112VZ, and brings along several fixes and improvements, including the latest Android security patches.



As per the change-log listed on Verizon's website, the update fixes a calling related issue where-in recipients "could not hear your voice for a brief moment once the call started." Aside from this, the Weather widget has been fixed to show the time and weather correctly, and an issue with the native Messaging app has also been fixed.

The update also features some...